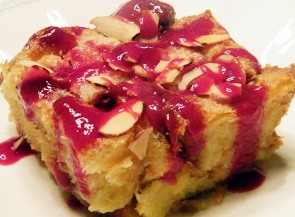 Ingredients
1/2 cup sugar
1/4 teaspoon ground cinnamon
1 large egg
1 large egg white
1/2 teaspoon vanilla extract
1/4 teaspoon salt
1/4 cups milk
5 slices of bread
1/8 cup semi-sweet chocolate
5 oz frozen strawberries in light syrup, thawed
Directions
1. Preheat oven to 375°.
2. Lightly coat a baking dish with cooking spray.
3. Mix sugar and cinnamon in a bowl.
4. Add eggs, egg whites, vanilla extract and salt; mix gently. Stir in milk, mixing lightly.
5. Cube bread slices. Add the bread cubes and chocolate. Let stand 5 minutes.
6. Pour mixture into the baking dish.
7. Bake for 45-50 minutes or until done. Let stand 8-10 minutes.
8. Blend strawberries with their syrup in a blender.
9. Strain the mixture to remove seeds.
10.Serve pudding into dessert bowls or glasses, garnish with strawberry sauce.